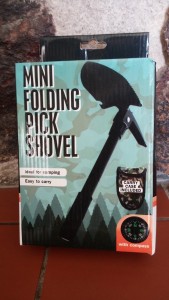 In exchange for an honest review, I received this little Mini Folding Pick Shovel…and to be honest, when I received the package, it was tiny! I was wondering how this little thing could be useful with as small and light as it was, but I guess that's the point, right?!
You have to know where I'm coming from though. I'm used to the big, bulky, clanky, military issued survival shovels. With it connected to your belt, those things can pull a mans pants down with as heavy as they are. However, I know from experience that you can dig a 6 ft deep foxhole with one. So they're durable, to say the least.
However, for you doomsday preppers, campers and emergency preparedness people, this is an item you might as well add to your list. It's small enough, smaller than my hand (when in it's case), and light enough to add to any bug out bag or 72 hour kit. For some basic use, it's also a very diverse tool. With the mini shovel having a pick on one end and a shovel on the other, it's very handy when digging a small trench, working in the garden or even prospecting.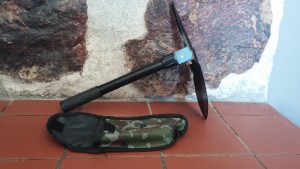 The mini shovel comes in two separate pieces. To assemble, all that is required is to screw the handle into the pick shovel end and you're good to go. It comes equipped with a little compass embedded in the end of the handle grip. It's not the greatest compass in the world, but hey, when you're lost, a compass is a compass, and this one will do the trick.
The only thing I'd change on this folding shovel is the plastic coupling used to tighten the pick and/or shovel into place. I'd rather see it built out of the same metal as the rest of the shovel.
As a side note, some may agree while others won't, but I feel it is important to teach your kids survival tactics and skills, such as how to protect themselves in dangerous situations. Whether for sport or survival, check out fightingreport.com.