The M1 Garand Rifle, named after it's designer, John Garand, is a semi-automatic rifle chambered in .30-06 and was used throughout World War II and the Korean War. Back in 1919, Garland came to Springfield Armory with the intention of creating a semi-automatic rifle, and in 1936, the United States military began placing orders for the M1.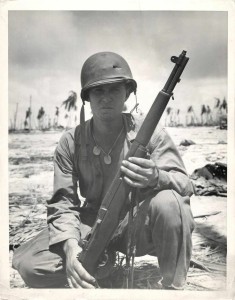 From 1936 to 1957 Springfield Armory produced 4.5 million M1 Garland rifles.
That's a lot of guns! If an armory were to sell that many rifles today at an average cost of $800, that would be around 3.6 billion in gross sales. That's not including upgrades to the rifle, such as sniper packages. If you look at the prices of the M1 Garand on The Civilian Marksmanship Program, which is a website, you can purchase an M1 Garand anywhere between $600 and $3200, depending on its condition and setup. The sniper M1's are going for a higher dollar, as they should.
Imagine factoring those prices into our equation of 4.5 million!
Okay, I'll turn the businessman off for a moment here and move on.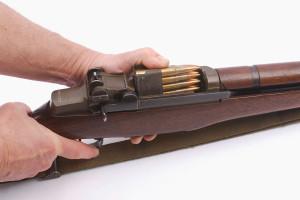 The M1 Garand gave Allied forces a huge advantage over the Axis' slower firing bolt-action rifles. Standard issue of the M1 holds eight rounds inserted with a metal clip. When the last shot is fired and the clip is empty, it ejects with a distinct "ping" sound.
The M1 Garand to this day is still used by the military. Although it isn't used in combat, it is still used in training and by the honor guards.
Springfield Armory
Since it's first design, Springfield Armory has also been through some changes. Founded during the American Revolutionary War, it was a great asset in ammunition and weapons for the US military, being retired in 1968. It is now the Springfield Armory Inc, established in 1974, and produces the M1A rifle, mostly chambered in 308.
You can read more about the history of the Springfield Armory as well as browse a little of their inventory on one of my favorite websites, besides my own, http://grabagun.com/springfield.