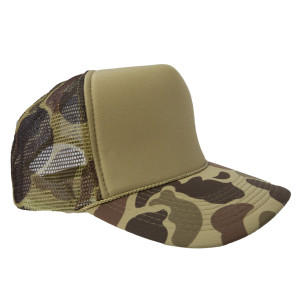 I was recently sent a camo trucker hat by the good people over at Amazon in exchange for an honest review. I can tell you this much, I am not the guy you'll see wearing a trucker hat! I think my head is too small, or maybe my face isn't fat enough. I don't know exactly what it is, but some people look good in trucker hats. I'm just not one of them.
However, just for kicks, my daughter wanted to take a few snapshots of me sporting the trucker hat…which you'll probably get a good laugh at. My daughter, however, makes the hat look good..and it looked good on her. Some people are just photogenic I guess.
Wearing that hat reminds me of the good ole days of WOC School, which is Warrant Officer Candidate School. I went through WOC school in preparation for flight school. I was to become an Apache helicopter pilot, and while in WOC school, each company had a color and mascot. Our color was purple. Out of all the colors they could have used, why purple! Anyway, part of our uniforms were these massive purple trucker hats, which were coupled with a purple t-shirt, yellow training belt and shorty military running shorts.
We were sexy.
The Trucker Hat
Anyway, as far as the trucker camo hat goes, it's a very comfortable hat, the bill is bendable and because of the mesh top, it's breathable. You can purchase a Legend Camo Trucker Hat on Amazon
for yourself using that link.