Have you ever heard the saying that "real men always have a knife on them?" I sure have. One too many times. And the funny thing about it is, when I have a knife on me for my reasons, my wife tends to roll her eyes at me. But when I don't have a knife on me, and she needs one, I get the eye roll again!
It's a lose, lose situation.
I'm also the kind of guy that hates to have stuff in my pockets, because I hardly ever wear a belt. And without a belt, there's always the threat of a full moon….if you know what I mean.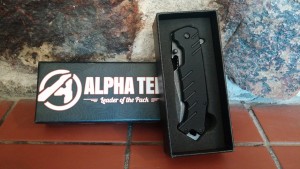 However, with as cool as some of these knives are, it's making me want to keep one on me. Let's take a look at a tactical pocket knife by Alphatek.
This spring assisted tactical knife measures in at 4.75 inches closed, around 8 inches open and 1.5 inches wide. It has a black stone wash 440C high-carbon stainless steel serrated blade, a bottle opener, G-10 handle, lanyard hole and a pocket clip.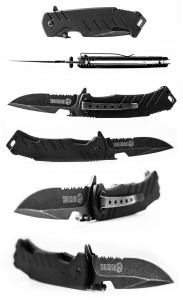 I've used it in a number of applications so far, including slicing tomatoes, cutting sub sandwiches, carving sticks with my kids, knife throwing at logs, and opening packages. You know, the basic stuff. I'm still waiting on the opportunity to test it during close combat with a mountain lion or a terrorist, but if something presents itself, and I survive it, you'll be the first to know.
I did receive this tactical knife in exchange for my honest opinion of it, so here it is…..
One thing I look for in a pocket knife is my ability to use it one handed. In certain situations, not necessarily tactical, you only have one hand to work with. When you've got a fish in one hand, and you need your knife, it's nice to be able to open it with one hand. This knife is spring assisted and opens very easily using one hand.
It's very sturdy and made of quality materials. The blade has no wobble to it. Great knife. Five stars for me. If you'd like this Tactical Knife
, click the link to see it on Amazon.